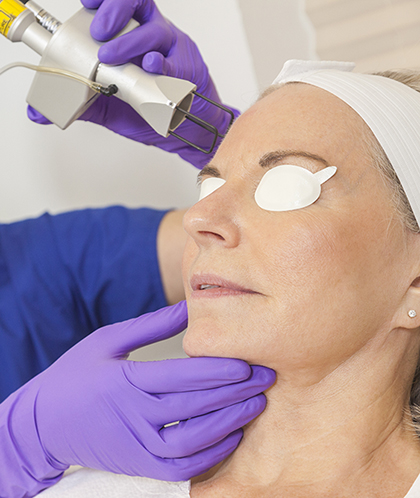 The MiXto SX® is the latest technology in micro fractional CO2 laser skin resurfacing which can be used on all skin types for laser skin treatments. The MiXto Laser treats the face, neck, chest, hands and arms and delivers more results in a 30-minute treatment than other non-ablative technologies can accomplish in 3 treatments with less discomfort, downtime and cost.
The MiXto technology allows for a variety of uses. It allows maximal benefits consistent with minimal discomfort, minimal anesthesia and minimal recovery. In addition, it treats many disorders associated with skin-aging while forming new skin collagen, tightening of the skin and removal of the signs of aging.
Testimony of actual Mixto patient
: "Until this procedure, there was not a cosmetic treatment I could find that made me this happy! The fractional CO2 laser not only erased my brown spots, uneven skin tone, and wrinkles, it also significantly improved the tightness and texture of my skin. The treatment took years of sun damage off my face, allowing me to go without makeup and look more youthful with an even skin tone."
For information, visit
www.mixtoskinresurfacing.com
.
Before Treatment: Stop using all retin-a products 1week before treatment Apply Numbing Cream 1 hour before treatment Purchase your Aquaphor ointment and Cetaphil cleanser and moisturizer to use immediately after treatment

After Treatment: You will experience redness, warmth, moderate to severe swelling, and dryness in the treated area, which can last up to 7 days. Ice the area for the first 3 hours, after the treatment, to reduce the symptoms. The skin may often have a pinkish tone for 5-7 days and can be covered with mineral make-up.

Please repeat the following actions consistently until you feel less discomfort:

1. Apply a thin layer of Aquaphor every 2-3 hours

2. Apply a cold compress (wet cloth) for the first 3 hours following treatment.

3. Drink plenty of water (minimum 3 Liters/day).

4. On the 2nd /3rd day following treatment, you may experience itchiness and aching.. use topical/oral benadryl as needed.

5. For the first 2days following treatment, sleep with your head slightly elevated to help minimize swelling.

6. You may shower first thing in the morning but NO aggressive or abrasive scrubbing. Pat clean and pat dry. Immediately apply a thin layer of Aquaphor. DO NOT ALLOW THE SKIN TO BE WITHOUT AQUAPHOR UNTIL THE SKIN BEGINS TO PEEL. Once skin begins to peel, stop applying Aquaphor and clean with Cetaphil cleanser, Moisturize with Cetaphil moisturizer, and your sunscreen.

After the 10th day:

1. Cleanse skin with Cetaphil cleanser

2. Apply TNS Recovery Complex

3. Apply TNS Ceramide Treatment Cream

4. Always follow with sunscreen
Fractional CO2 Laser | New Skin Collagen | Erase Brown Spots | Wrinkles