What is Kybella?

Kybella is the first and only FDA-approved, non-surgical treatment that contours and improves the appearance of submental fullness. It is a non-surgical 15 to 20 minutes session in the office and is customized to help you achieve your treatment goals.

It destroys fat cells when injected into the fat beneath your chin. Once the aesthetic goal is achieved, re-treatment is not expected

The most common side effects of Kybella include swelling, bruising, pain, numbness, redness, and areas of hardness in the treatment area.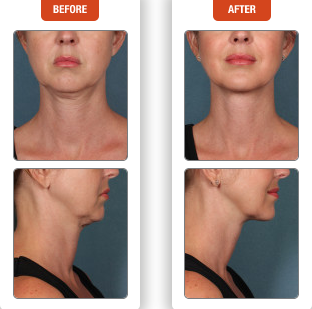 Important Safety Information

Before receiving Kybella, tell your healthcare provider about all of your medical conditions, including if you: Have had or plan to have surgery on your face, neck, or chin; have had cosmetic treatments on your face, neck, or chin; have had or have medical conditions in or near the neck area; have had or have trouble swallowing; have bleeding problems; are pregnant or plan to become pregnant (it is not known if Kybella will harm your unborn baby); are breastfeeding or plan to breast feed (it is not known if Kybella passes into your breast milk; talk to your healthcare provider about the best way to feed your baby if you receive Kybella.

Kybella can cause serious side effects, including nerve injury in the jaw that can lead to an uneven smile or facial muscle weakness and trouble swallowing, for more information call NeuLook Med Spa and Skin Center at 858-538-5665.

Pre Treatment:

Take anti inflammatory one hour before your treatment.

Post Treatment:

The area will be swollen for 2-3 weeks.

Take pain medication as needed.