Jeuveau® — is it really the new Botox? #NEWTOX
When I heard there was a new "botox" like injectable on the market, I was elated. I'm an aesthetics fanatic. So, of course I had do to my research before I could try it and see if it was right for me.
Here is what I have found:
Jeuveau is meant to be a play on the French word "nouveau" which means "recent" or "modern" and patients will evolve with the product as they move forward in their journey towards youth. Jeuveau is actually a 900 kDa purified botulinum toxin formula type A which can temporarily improve the appearance of moderate to severe wrinkles in adults. Jeuveau is produced following the strictest quality standards in top-notch facilities where only this specific drug is manufactured. Its safety has been evaluated through a clinical study with over 2,000 patients.
The FDA approved Jeuveau because the drug has passed two clinical trials in the U.S with double-blind placebo studies. Both trials displayed efficacy and met their primary goals by reducing the glabellar lines over a 30-day period. In those clinical trials, Jeuveau had a 65.7% success rate in the first trial and 70.4% success rate with patients in the second trial.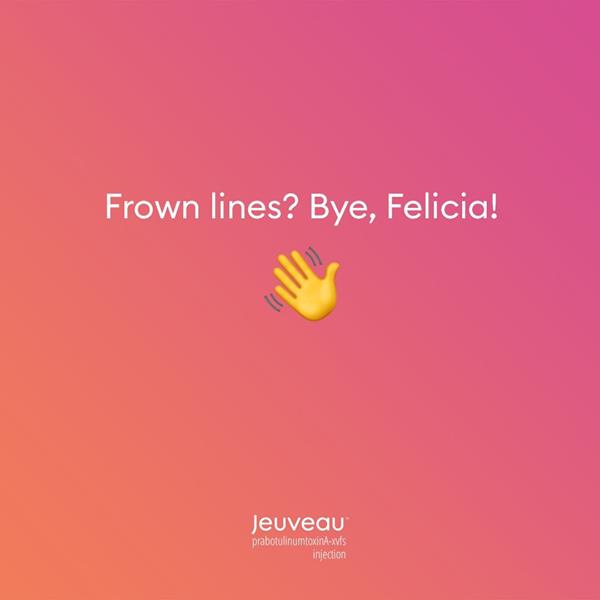 To sum up all the fancy scientific facts, Jeuveau is a lot like Botox. The only difference is the place its manufactured and the price point is 25% lower than Botox per unit, but of course that's always going to change according to the different provinces and market demand.
Needless to say I wanted to try Jeuveau. Here's my experience thus far. On August 6, 2019 I went into Neu Look Med Spa, where I had met Gita Izadi MSN, FNP, RN injector extortioner. Not only is she an artist with the needle but she is a kind and sweet soul. She made me feel extremley comfortable and listened to everything I had said even my slight worry about trying a new injectable. After the in consult I was ready to go. I received 51 units of Jeuveau injected into my glabella and forehead. The glabella area is often referred to as the 11 lines, which are in between the eyebrows.
First day after injection after Jeuveau you couldn't tell I had anything done which is completely normal, like Botox, Jeuveau also takes 7-10 days to take effect. Three days after I was injected with Jeuveau, I did notice a slight difference. My brows where slightly raised! I was so shocked because usually with Botox it doesn't take effect until 10 days after the injection. Within 5 days Jeuveau had taken full effect. I was in disbelief and I was also sold on a faster acting botulin injection. Now we are in close to mid- October and I am still loving Jeaveau, I have little to no movement, which I prefer but you will have your own preference. Of course I know that results are going to be different per patient. But from my experience I would recommend it.
My conclusion, if you want something faster acting and a little more cost efficient than Botox, Jeaveau is for you.
Contact Neu Look Today!
Call us at (858) 538-5665 to schedule a complimentary consultation with Gita and learn more about Jeauveau. Feel free to ask all the questions you need answered or the worries you need answered.