Kybella Neck Fat Reduction San Diego
You have been working so hard. Dieting. Exercising. Yoga. Runs. Cleanses. You have done everything and anything and shed some pounds, but your stubborn double chin refuses to vacate the premises. No matter what you do or how much weight you lose, you are constantly embarrassed in pictures and glances in the mirror by a dogged double chin. Neu Look Med Spa and Skin Center in San Diego has a solution to discard the double chin, and it is the Kybella double chin reduction treatment.
What is the Kybella Treatment?
Kybella is an injectable medication that works to reduce the appearance of a sagging chin or double chin. Kybella works to improve the look and profile of fat under the chin, providing a non-surgical and minimally-invasive method to get rid of a double chin.
How Does Kybella Double Chin Reduction Work?
Kybella uses a naturally occurring acid in the body that works to both absorb and break down fat. By injecting this molecule into the chin, Kybella works to eliminate fat cells, providing both immediate results and also preventing cells in the chin to accumulate fat over time. As a result, Kybella destroys the fat under your chin and removes your double chin.
Is Kybella Right For Me?
Kybella is a great procedure to get rid of a double chin, also known as submental fullness, but it is not for everyone. In order to qualify for Kybella double chin reduction, you must be in good health and not obese. It is for people who exercise and eat well but are unable to get rid of their double chin. We want to maximize the effectiveness of the treatment, and that is why Kybella is only recommended for those in good shape. There are some other factors to consider, so please schedule a consultation to go over any other health risks.
If you meet these requirements, then Kybella is right for you if you are self-conscious about your double chin and want to see a change, You feel your sagging chin makes you look older and heavier than you actually are, and this causes embarrassment and unhappiness.
How Long Will Kybella Results Last?
As stated above, Kybella destroys the existing fat cells in the area under the chin. This means that Kybella should be a one-time procedure, as the cells can now no longer store fat or accumulate fat over time. If you like the way you look after one treatment, there should not be any need for a second treatment a few years down the road.
What is Recovery From Kybella Like?
The recovery from Kybella is a fairly easy one, as this is a minimally-invasive and non-surgical procedure. Immediately following the injection, there is likely to be some slight swelling and numbness under the chin. The swelling and bruising should go down shortly afterward. If you have other symptoms, such as weak facial muscles, a hard time swallowing, or an uneven smile, make sure to contact a medical professional.
Contact Neu Look in San Diego for Kybella Double Chin Reduction
Neu Look Med Spa & Skin Center in San Diego is dedicated to having you looking and feeling your best. A double chin can be a drag on your self-esteem and general well being, and there is an easy and affordable solution. Kybella double chin reduction treatment can get rid of that troublesome double chin and have you feeling like your best self. If you are interested in Kybella, contact Neu Look Med Spa & Skin Center today. Give us a call at (858) 252-1185.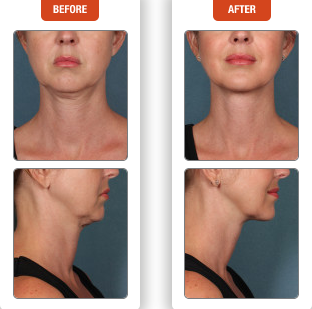 Important Safety Information

Before receiving Kybella, tell your healthcare provider about all of your medical conditions, including if you: Have had or plan to have surgery on your face, neck, or chin; have had cosmetic treatments on your face, neck, or chin; have had or have medical conditions in or near the neck area; have had or have trouble swallowing; have bleeding problems; are pregnant or plan to become pregnant (it is not known if Kybella will harm your unborn baby); are breastfeeding or plan to breast feed (it is not known if Kybella passes into your breast milk; talk to your healthcare provider about the best way to feed your baby if you receive Kybella.

Kybella can cause serious side effects, including nerve injury in the jaw that can lead to an uneven smile or facial muscle weakness and trouble swallowing.

Pre Treatment:

Take anti inflammatory one hour before your treatment.

Post Treatment:

The area will be swollen for 2-3 weeks.

Take pain medication as needed.