Thread Lift
PDO MEDiTHREAD Lift In San Diego
A thread lift will help tighten your skin, lift your loose skin, and give you a superficial face lift. If you have wrinkles and/or loose skin, this is the treatment for you! Learn how Gita Izadi in San Diego, CA can help you bring back your confidence regarding loose skin…
PDO Thread Lift, by MEDiTHREAD, includes innovation, research and development. All products are developed by a team of engineers, physics and specialist medics, comprising surgeons, dermatologists, medical researchers and university centres.
MEDITHREAD'S NON-SURGICAL LIFT USING PDO THREADS
The thread lift procedure has radically changed the aesthetic world. PDO thread lift is now amongst the most popular non-invasive lifts available. Resulting in your skin being lifted and smoothened without having to be put under for surgery.
WHAT IS PDO THREAD LIFT?
The PDO (Polydioxanone) thread lift is a non-invasive treatment which lifts and tightens sagging skin tissue, using threads made of PDO. The threads are introduced into the deeper layers of the skin. Once introduced, the threads have 3 amazing effects on the skin:
The thread lift will result in your skin tightening, by contracting fat tissue. Also, it will result in collagen stimulation, which promotes cellular renewal and improves skin texture, fine lines and elasticity. Lastly, it will result in Instant skin lifting. More commonly referred to as PDO instant result.
The lifted facial contour will remain for about 12-15 months after procedure, due to the collagen stimulation effects. After six months, after the procedure, PDO threads will disappear because they are absorbable. Your skin cells are stimulated to produce new collagen, and new blood vessels to improve skin microcirculation. At the same time, the PDO threads cause the fat tissue to contract and produce the skin tightening effect.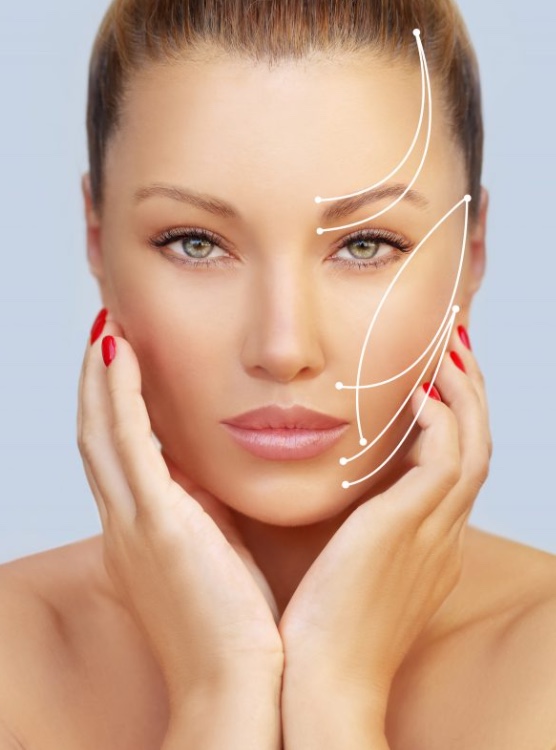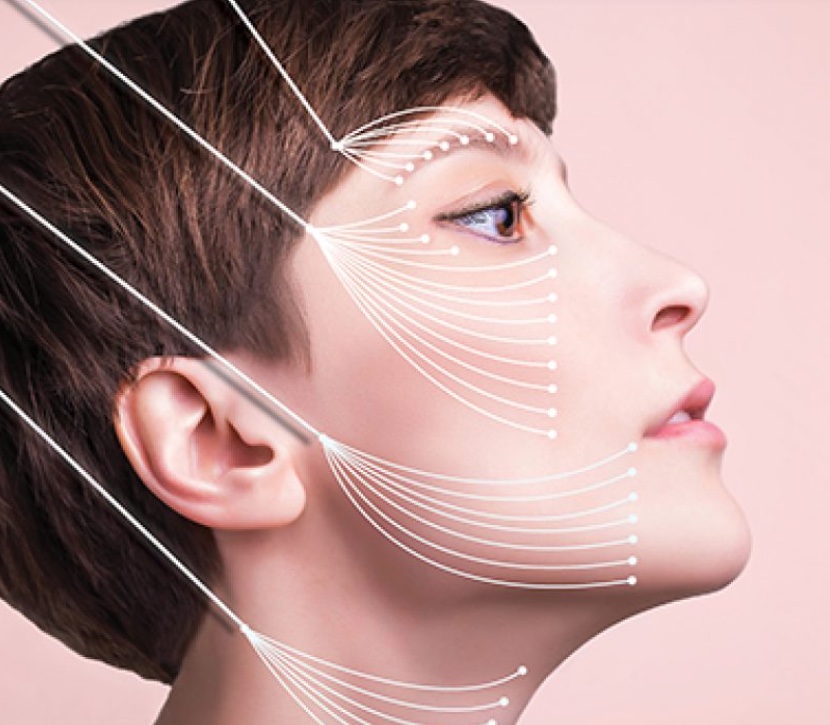 WHAT AREAS CAN BE TREATED WITH PDO THREAD LIFT?
The PDO thread lift is very versatile, allowing practically all areas of the body to be treated, including the:
Face
Lips
Abdomen
Arm Breast
Hip
Hands
Neck
Chest
Buttocks
Inner thighs
Armpit
Knees
POST CARE AFTER PDO THREAD LIFT PROCEDURE
PDO threads are absorbable synthetic polymer that is highly versatile. The PDO thread will biodegrade over a period of 4 to 6 months. The PDO threads will create micro injures to the skin causing it to have a positive result on the dermal layers, for example, increase blood flow. Results from this treatment may take up to 3 weeks or longer for the treatment effect to be noticeable.
In order to achieve the best possible result from your PDO Thread Lift, follow these instructions carefully. If you have any question or problems that are not addressed here, call our office, and we'll be happy to help.
What you need to Avoid:
Avoid heavy exercises for 1 week, this causes extreme facial movements
Do not touch or wash your face for 30 minutes
Do not pull down on face for 4 weeks
Eat soft foods, no large bites for 7 days
Sleep on back for 3-4 days
Do not chew gum for 2 weeks
No facial massages for 4 weeks
Limiting facial movements will help lifting threads to stay in place, so no dental work unless strictly necessary
Avoid heat in treatment area like saunas, IPL lasers or radio frequency treatment for 30 days
Avoid medication that affect the blood clotting effects like fish oils, vitamin's C, A & E for 7 days
Normal responses:
Bruising, and swelling normal can use over counter arnica topical
Post procedure discomfort medication to use: Tylenol – helpful for post procedure for 7 to 10 days
Most discomfort occurs in the first 24 to 48 hours. Place ice on very gently just in case of bruising
Stinging, "pulling", itchy sensation will decrease at about 3 to 5 weeks
Contraindication
NSAIDS – avoid for 7 days
Alcohol – avoid for 3 days prior to procedure
Aspirin or vitamin e- avoid for 10 days
No need for antibiotics on rou routine basis
No need for antivirals unless high tisk patients and perioral treatment
Acute illness
Pregnancy
Unrealistic expectations
Oncology (chemotherapy)
Blood disorders
Cutaneous neaurofibromatosis
Psychiatric disorders (picking)
Tendency toward Keloid scarring
Immune System diseases
Inflammation of the skin in areas to be treated
A non-absorbable implant (Silicone) in the zone of thread insertion