About Neu Look Med Spa and Skin Center
Neu Look is a Med Spa and Skin Center located in Torrey Highlands in San Diego. We have been serving the San Diego community for over 19 years. The Neu Look team is dedicated to helping our patients meet their individual skin desires through a variety of cosmetic and aesthetic procedures. We put our patients first, in order to make their visit to our office as pleasant and productive as possible.
The History of Neu Look in San Diego
Neu Look Med Spa was founded in 2003 by Gita Izadi. Gita is a family nurse practitioner who moved to San Diego in 1997, after gaining valuable experience in a hospitals and clinics. Later, in 2002 she decided to start her own med spa and skin care clinic to help people meet their skin and cosmetic needs.
Neu Look Med Spa started from humble beginnings, opening in a small space that was shared with a hair salon and another med spa. After 9 months, at that location, the space could not contain Neu Look Med Spa's clientele. Therefore, Gita moved the business to its current location at 7805 Highland Village Place in Torrey Highlands.
We hold ourselves to a high standard and only provide the most effective services and products. Gita is extremely ethical and holds her integrity close to her. In fact, she will only recommend something if she thinks it is the best product for you. Ultimately, she wants your happiness with her recommendations.
OUR TEAM
Meet the Neu Look Med Spa & Skin Center Staff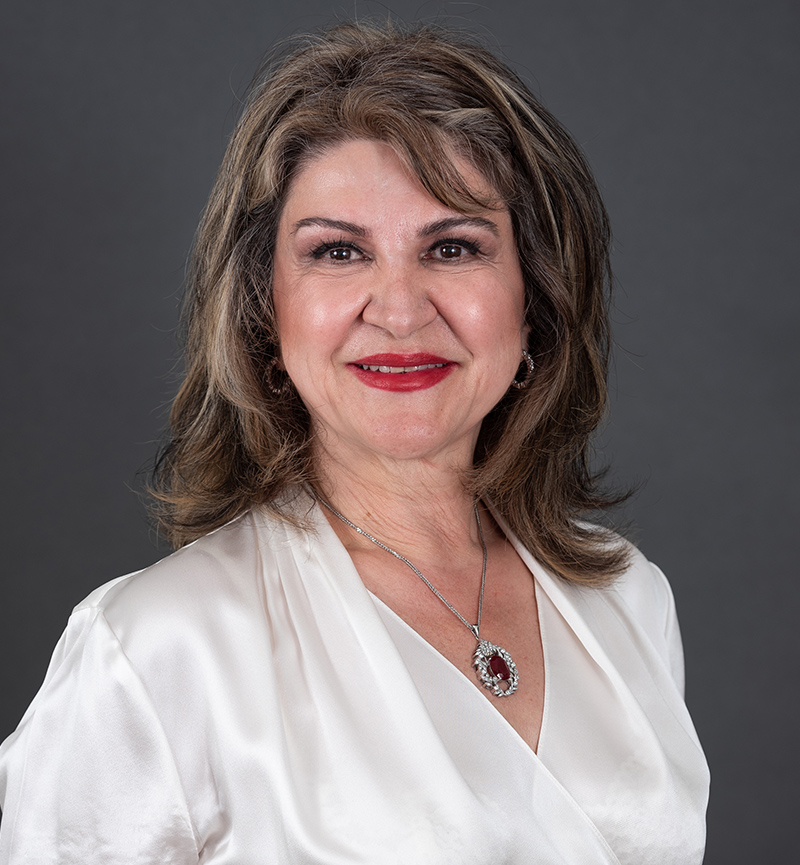 FOUNDER, FNP
Gita Izadi
Gita is a Family Nurse Practitioner with 19+ years of experience in the cosmetic field since opening Neu Look in 2003. In 1997, Gita moved to beautiful San Diego, CA where she had the opportunity to work in multiple departments of hospitals and clinics gaining professional experience within her industry. Later in 2003, Gita founded Neu Look Inc. and began working in a room within a hair salon and shared space with another med spa for nine months. But ultimately opened up her own location, in Torrey Highlands. Throughout the years, Gita, with the help of our staff, have treated thousands of happy patients. "I love people, especially our guests at Neu Look! My mission is for everyone who walks through my doors to have a great experience. I love my patients! It's always about them, their needs, and desires." Gita and our staff work diligently to keep their clients completely happy, resulting in friends and family referrals. Today, most new clients come from word of mouth, because we treat everyone like family.
Learn More about Neu Look Med Spa's Founder, Gita Izadi

Gita Izadi is a Family Nurse Practitioner who has over 19 years of experience in cosmetic medicine since opening Neu Look in 2003. She specializes in botulin injections, dermal fillers, lasers, and thread lifts. In addition, she is always continuing her education and improving her techniques for her treatments. That is why all her patients trust her to help them look and feel their best.

Gita also is very involved in the Torrey Highlands and San Diego community, giving back by contributing her time to a number of local charities. In fact, one organization close to her heart is Promises2Kids, which helps foster children in the San Diego community. Go to their site to learn more about this amazing organization.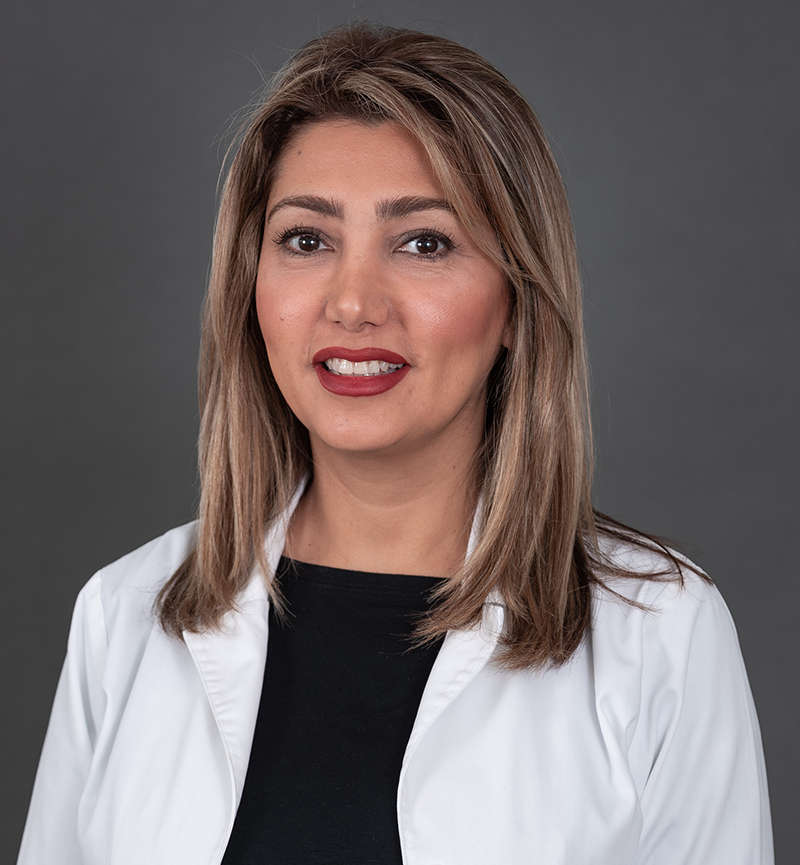 MANAGER, PATIENT COORDINATOR, MAKEUP ARTIST
Sharareh
Sharareh moved from Iran to San Diego 10 years ago. She has been with Neu Look Med Spa for over 8 years. Sharareh received her makeup training and license in Paris, France and has traveled to Turkey, London and Dubai to continue her makeup artistry education. In addition, she is very talented in eyebrow shaping and threading. Sharareh is available for makeup application for brides and special events. In her free time she enjoys shopping and spending time with her family and friends.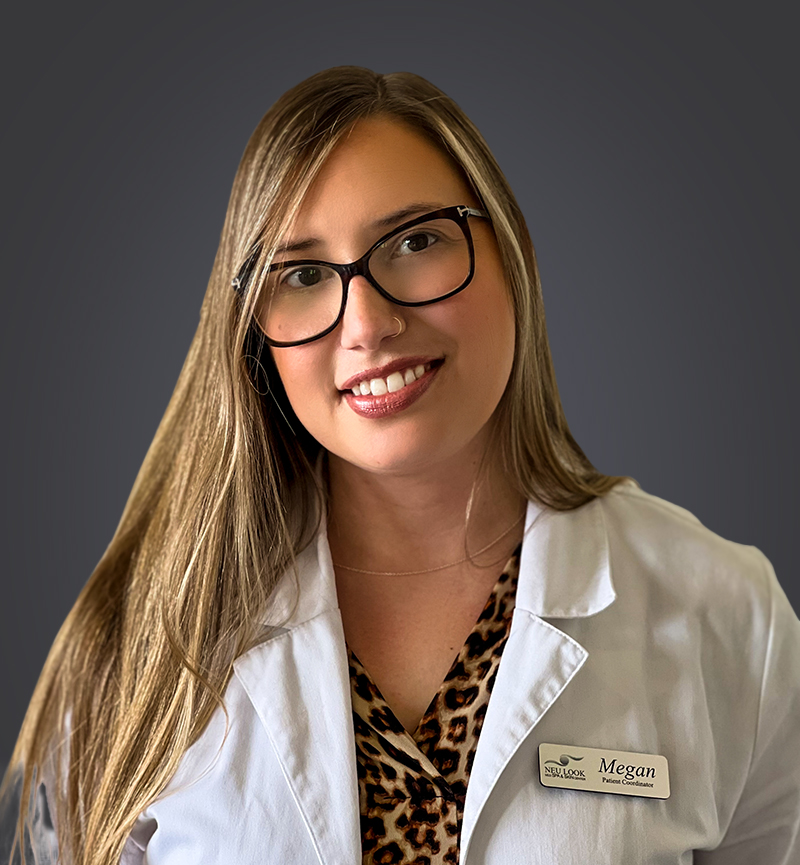 PATIENT COORDINATOR, MAKE UP ARTIST
Megan
Megan was born and raised in beautiful San Diego. She has been working in the skincare industry since 2005. Later, she followed her passion and got her Cosmetology license in 2010. In addition, she attended the MUD make up program, where she earned her make up certifications. Megan has a wide knowledge in skincare and makeup. She is available for makeup applications for special events and weddings. On her days off, Megan enjoys spending time with her dachshund, friends and family.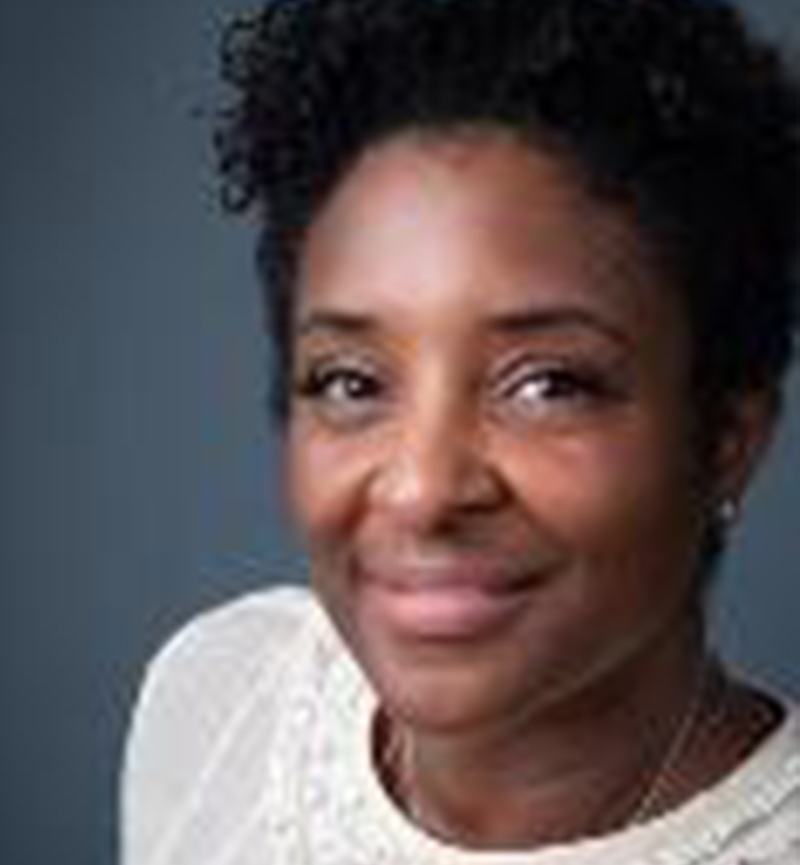 FAMILY MEDICINE
Dr. Sunao L. Gilbert, MD
Dr. Sunao Gilbert, MD is an Emergency Medicine Specialist at Neu Look Med Spa & Skin Center in Torrey Highlands, CA. She has been practicing for 20+ years and is also affiliated with Palestine Regional Medical Center.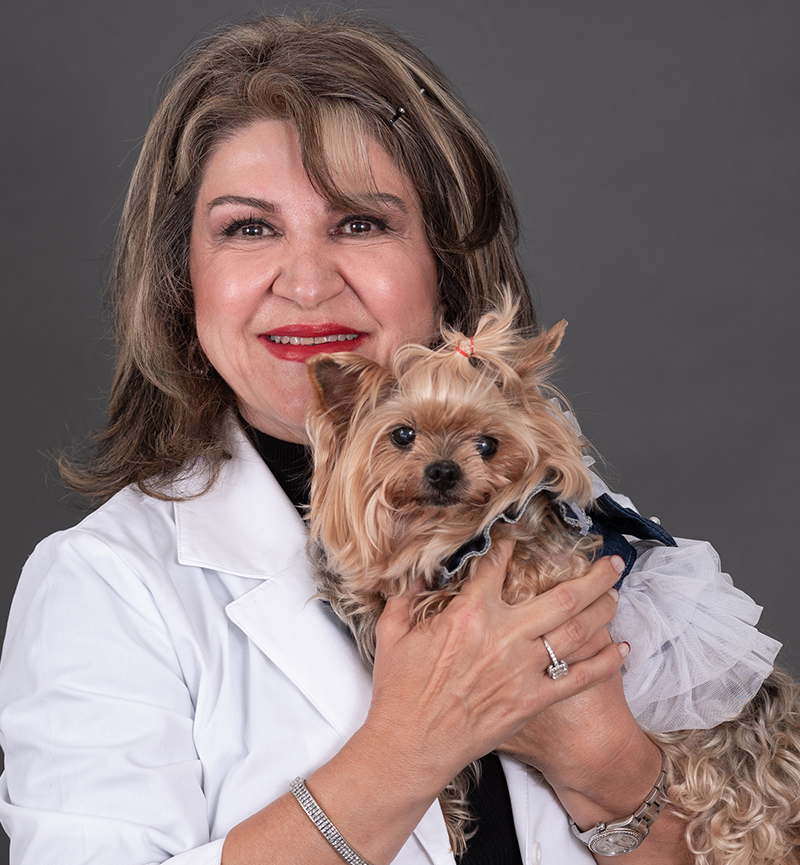 CHIEF CUDDLE OFFICER
Coco Izadi
Coco is the official mascot of Neu Look Med Spa & Skin Center and loves to love our patients! She makes sure to greet every single patient that comes in. Our patients absolutely love our service pup!
OUR OFFICE
Our Location in Torrey Highlands, San Diego
Neu Look Med Spa and Skin Center is located in Torrey Highlands, in North County, San Diego. Torrey Highlands is off of the 56, between Carmel Valley and Rancho Peñasquitos. We pride ourselves in having a beautiful and calming office, enabling clients to immediately feel a sense of serenity once they enter our offices. Our motto is that Neu Look is "our paradise" and that is the energy we want to emulate for all of our patients. We want every patient to leave the Neu Look office 100% satisfied, and that is why we go the extra mile to make our office look and feel great.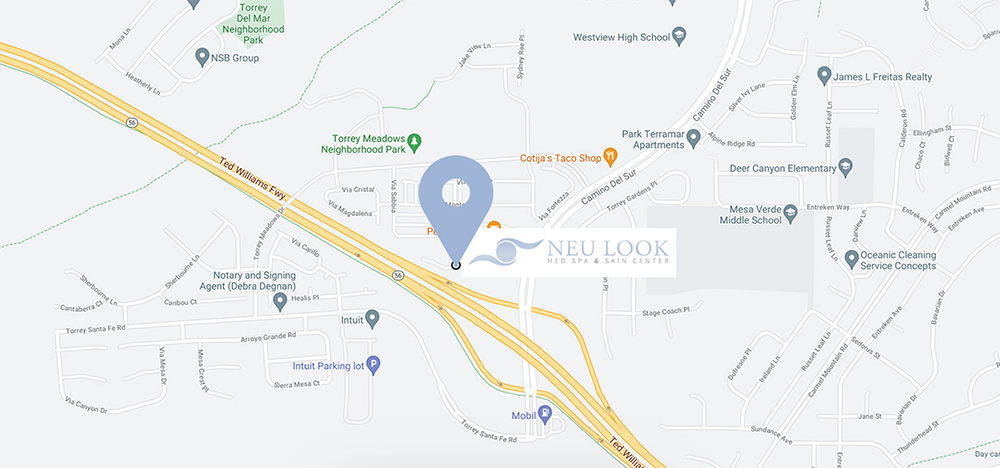 Neu Look Med Spa & Skin Center
7805 Highland Village Pl, #G103,
San Diego, CA 92129
Neu Look Med Spa & Skin Center has been proudly serving the following communities and zip codes since 2003: Communities: Black Mountain Ranch, Carmel Mountain Ranch, Carmel Valley, Del Mar, Encinitas, Fairbanks Ranch, La Jolla, Mira Mesa, Poway, Rancho Penasquitos, Solana Beach, Torrey Highlands, Del Mar, San Diego, and more… Zip Codes: 92129, 92130, 92127, 92067, 92075, 92024, 92126, 92037, 92122, 92121, 92108, 92014, 92122
Contact Neu Look Med Spa
& Skin Center in San Diego
Neu Look Med Spa is the premier medical spa and skin care center in San Diego, offering clients unmatched results.
Come by our lovely and peaceful office in Torrey Highlands for a free consultation, and Gita can help determine the best services and treatments for you. Neu Look is also is available for group or private Botox or Filler parties and gatherings. If you are interested in learning more, contact Neu Look Med Spa today. Give us a call at (858) 538-5665.