Fractional Resurfacing
Fractional Laser Skin Resurfacing for the Face, Neck, Chest, Abdomen, Hands, Crow's Feet & More

About Fractional Laser Skin Resurfacing
ICON (Palomar) Fractional Non-Ablative Skin Resurfacing offers both superior results and little to no downtime.* The Lux1540 fractional microbeams penetrate deep into the epidermis and dermis (very deep into the skin) for effective, long-term results.* The fractional's, non-ablative approach stimulates quick healing with no long term redness.* It can be performed on most areas of the body including the face, neck, chest, arms, abdomen, and hands. It is FDA-cleared for stretch marks. And good for all skin types.*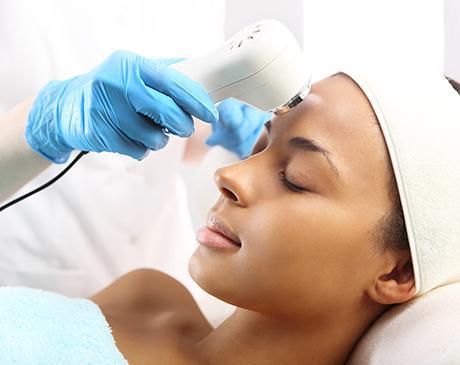 Commonly Asked Questions
How can I prepare my skin for this treatment?

If you have darker skin, we will prescribe a bleaching agent to reduce the melanin in your skin temporarily. Numbing cream will also be prescribed to reduce the sensation.

What should I expect after this treatment?

You may experience redness, warmth, swelling, or tightness in the treated area, which typically fades within a few hours after treatment.* Ice the area for the first 2 hours, after the treatment, to reduce the symptoms. The skin may often have a pinkish tone for 5-7 days and can be covered with mineral make-up.*
Pre-Treatment:
Stop using Retin-A 48 hours prior to treatment
Use numbing cream 1-1.5 hours prior to treatment
No sun exposure prior to treatment
On patients with darker skin preparation is required (see the doctor)
Post-Treatment:
Immediately ice for 2-3 hours.
Skin will be blotchy for 5-7 days, cover with mineral based make-up.*
Apply TNS Recovery Complex AND Ceramide Cream TWICE a day or more.
Apply Sunblock in A.M and then every 2 -3 hours.
No Retin-A for 2 weeks post treatment
No hydrating facial 2-3 weeks post treatment
*Disclaimer: Every patient is different and will have varying results, benefits and levels of risk when undergoing treatment. The statements on this website do not guarantee results, benefits or levels of risk for any one individual.
We have promotions and discounts every month on our products and services. Please check our specials page, or call the spa at (858) 538-5665 for more info.