Botox San Diego
Best Botox in San Diego, CA
About Botox at Neu Look Med Spa & Skin Center
Botox practitioners are all over San Diego. But here, at Neu Look Med Spa & Skin Center, we offer astounding results, experiences, quality products, and competitive every day pricing on Botox in San Diego.
The Neu Look Botox Experience:
At Neu Look, we are proud to offer the best quality Botox in San Diego. Our practitioner, Gita Izadi, is certified, licensed, and always continuing her education. Also, to reiterate, she has 18 years of injecting experience, in San Diego. Furthermore, she is highly experienced and committed to providing patient satisfaction. In addition to her expertise & Botox quality, we are able to provide competitive pricing with Allergan's program, Alle.
With this program, patients are able to earn points, with each visit. However, the difference at our practice, is you get your rewards the day of your treatment, rather than the following one. Along with our participation in this program, we hold the distinct honor of being a Diamond Account with Allergan, meaning we rank within the top 2% of all Allergan Botox customers nationwide!
For cosmetic treatments, these areas are most frequently treated areas with Botox:
Crow's Feet (fine lines by eyes) wrinkles
Glabella (between the eyebrows) wrinkles
Corners of lips (laugh lines) wrinkles
Forehead wrinkles
Nose (nasal region) wrinkles
Benefits of Botox
Botox is for men as well!

 

Aesthetic appeal: Many men are turning to Botox to reduce wrinkles and signs of aging, providing a more youthful appearance.
Treatment for medical conditions: Not just cosmetic, men benefit from Botox in treating conditions like excessive sweating and migraines.
Confidence boost: Enhancing appearance can lead to increased self-esteem and confidence.

Botox for TMJ/masseter muscle:

Pain relief: Botox injections in the masseter muscle can alleviate jaw pain and discomfort related to Temporomandibular Joint Disorder (TMJ).
Reduced jaw tension: It helps in relaxing the muscles, thus easing tension.
Improvement in jawline appearance: This treatment can make the jawline appear softer and less angular.

Botox for chin augmentation:

Non-surgical option: Botox provides a non-invasive approach to enhance the chin's appearance.
Reduction of "dimpled" or "cobbled" chin: By relaxing the muscles, it smoothens the chin texture.
Customizable results: Treatment can be tailored to individual patient needs and desired outcomes.

Botox for lip flips:

Enhanced lip appearance: It creates a fuller and more pronounced lip without fillers.
Quick and minimal downtime: The procedure is quick, usually taking about 10-20 minutes, with minimal recovery time.
Temporary effects: The effects typically last a few weeks to a few months, offering flexibility to change or revert the look.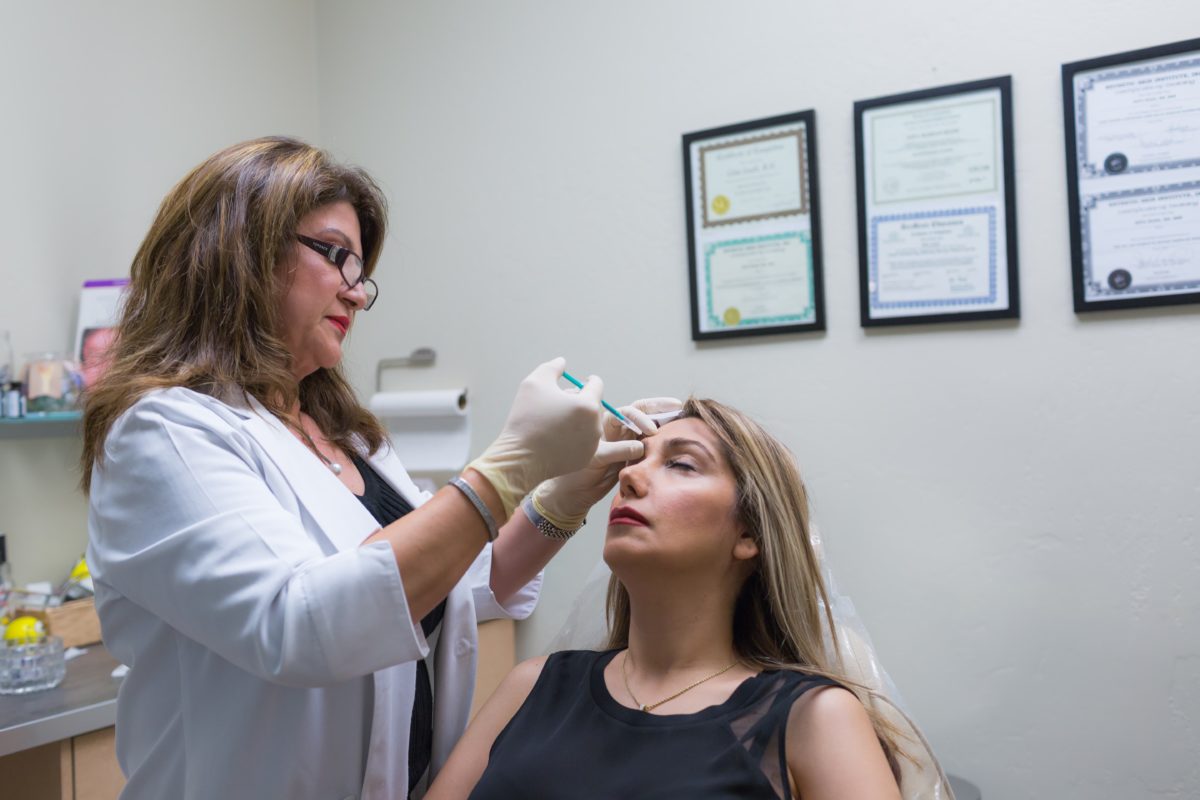 Providing the Best Botox in San Diego, CA
Our Nurse Practitioner, Gita, is the very best in San Diego. She has over 18 years of injecting experience and thousands of happy patients, therefore she should be your go to, for ALL your injecting needs. During your consultation, she will take the time to listen to your concerns and then give you a suggested treatment plan. Once you come to an agreement, she will begin your treatment. Afterwards, she and our staff will give you post-treatment instructions and book you a follow up appointment.
Get Started with Botox Today!
Call us at (858)538-5665 to schedule an appointment with our renowned Botox specialist at Neu Look! Or fill out our contact form HERE to schedule your free consultation.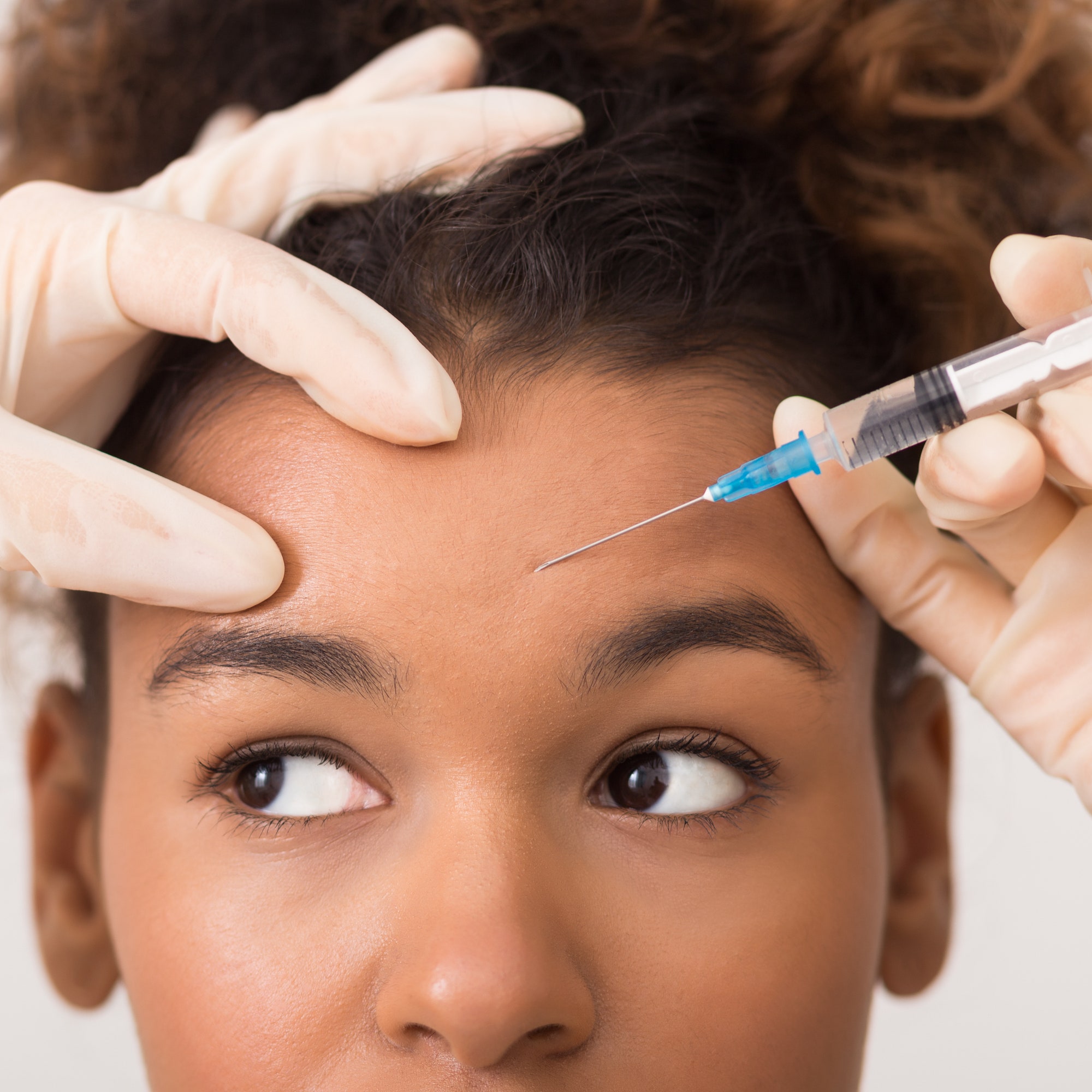 What Is Botox?
Botox® is a prescription medication that has been used for more than 30 years to treat a variety of medical conditions. Approved for use in more than 75 countries, it is the No. 1 studied botulinum toxin and one of the most widely researched medications in the world.
In 2002, the same formulation of therapeutic and medical Botox, which has long been approved for use, was approved by the US Food & Drug Administration (FDA) for cosmetic use. Under the label Botox Cosmetic, the medication became a popular remedy for reducing the appearance of moderate to severe fine lines, wrinkles and frown lines.
Please click here for complete information about Botox Cosmetic.
How Does Botox Work?
In each treatment, Botox is injected directly into the muscle. After the injection, the medication reaches the muscle, and it blocks the nerve impulses. Following that, the muscle activity that causes persistent lines to form is temporarily eliminated. Therefore, frown lines, wrinkles and crow's feet, in the treatment areas, begin to smoothen. In conclusion, Botox has been chosen by millions of people around the world to obtain a more youthful appearance.
Pre-Treatment for Botox:
NO alcohol 24 hours prior to treatment.
Discontinue anti-inflammatory medications (i.e. ibuprofen) 24-48 hours prior to treatment.

These are both to minimize bleeding and swelling.
Post-Treatment for Botox:
Do NOT lie down for four hours after treatment
No facials, massage or waxing for 72 hours after treatment
Do not exercise the remainder of the day, post treatment.
Note: It takes 3-10 days to see results.

We will also call you the day after to check in on you.
Get Started with Botox Today!
Call us at (858)538-5665 to schedule an appointment with our renowned Botox specialist at Neu Look! Or fill out our contact form HERE to schedule your free consultation.
Areas We Serve
We are proud to serve all of San Diego County including La Jolla, Del Mar, Solana Beach, Encinitas, Rancho Bernardo, Rancho Santa Fe, Carmel Valley, Rancho Penasquitos, Scripps Ranch.
*Disclaimer: Every patient is different and will have varying results, benefits and levels of risk when undergoing treatment. The statements on this website do not guarantee results, benefits or levels of risk for any one individual. Offers and prices are only valid at our location, between Carmel Valley & Rancho Penasquitos, at 7805 Highlands Village Place #G103, San Diego 92129*