Laser Hair Removal San Diego
This treatment is a non-invasive approach to permanent reduction and long-term hair removal. Treatment is designed to eliminate hair from all parts of the body. In fact, laser therapy leaves your skin feeling smoother and softer.*
Research indicates that between 20% to 30% of all hair follicles are in the growing to anagen stage at any time. As a result multiple treatments are required. An average of 5-7 treatments that are between 4-6 weeks apart are needed for optimal results.*
Laser hair removal has been FDA approved to last a minimum of 2-4 years.* Small areas such as the underarms or upper lip can be treated in 10 minutes or less, and even large areas like the back or legs can be treated in under a half hour.
Laser Hair Removal Package:
Receive 15% off when you pre-pay for 7 treatments of the same area!!!
Various cooling methods keep the light pulses mild and skin-safe, allowing for more comfortable treatments than electrolysis or waxing. In addition, the Lumenis hair removal device will actually slightly pinch your skin to minimize the lasers pain. All you will feel is a slight pinch, which makes the treatment pass even quicker!

Call us to schedule an appointment today! (858)538-5665
Commonly asked questions:
How can I prepare my skin for a laser treatment?
Shave the area that you are getting treated and do not tan for 7 to 10 days before or after treatment. (You will be charged a small fee if you do not shave)
What should I expect after a laser treatment?
Immediately after treatment, you can expect a mild sunburn-like sensation, possibly accompanied by some minor swelling. This usually lasts 2-24 hours, and can be soothed with cold gel or ice packs. The treated hair will continue to appear 7-30 days post-treatment.* This is not new hair growth, but the treated hairs being expelled from the skin. In some cases you may experience Folliculitis or slight inflammation of the hair follicles, if this should occur please call Neu Look at (858) 538-5665.
Are laser treatments painful?
Most patients tolerate the procedure well, but some areas of the body are more sensitive than others. Topical anesthesia is always available for those patients with more sensitive skin. For more information or if we can answer more questions regarding Laser Hair Removal please contact Neu Look Med Spa & Skin Center at (858) 538-5665.
Pre- Treatment:
Shave (except facial hair- needs to be visible for the first treatment)
Remove deodorant prior to an underarm treatment
Do not apply lotion to the area prior to treatment
Apply numbing cream an hour prior to a Brazilian treatment
Post-Treatment:
Wear sunscreen
Avoid swimming, going to a jacuzzi or bathtub for 1 week
Lastly, you might experience itchiness (folliculitis)
---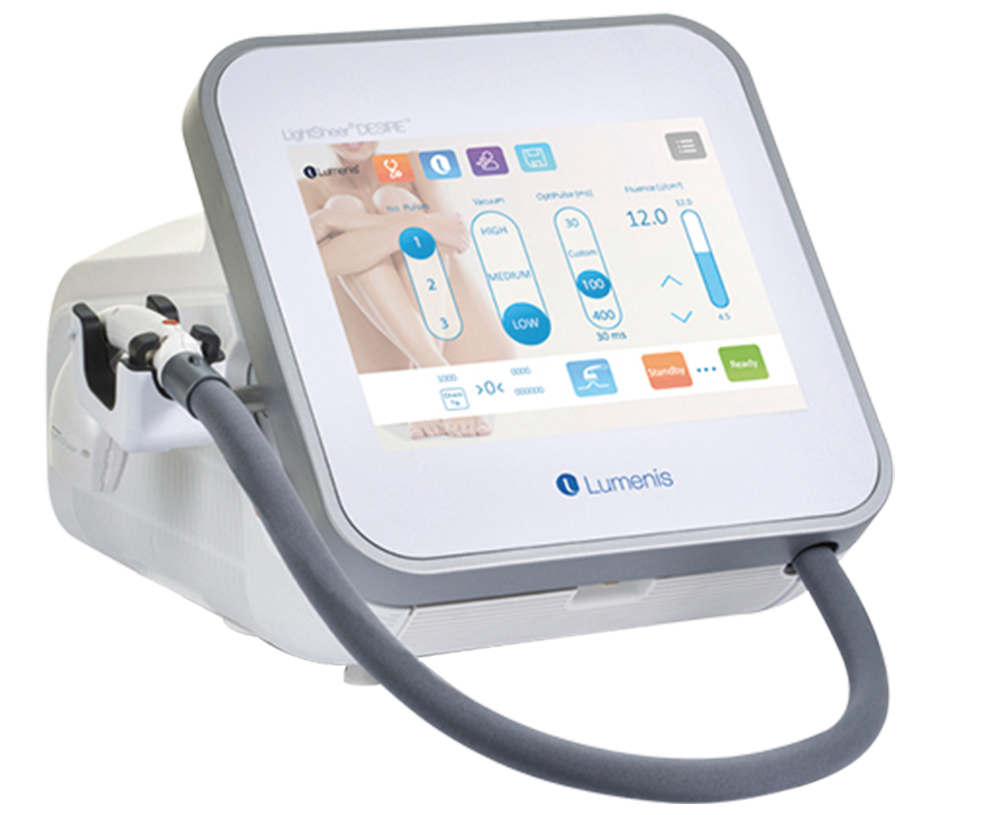 W've learned that more and more of our patients desire to have permanent hair reduction and a treatment that is effective, fast and comfortable. That's why Neu Look now proudly uses the LightSheer® DESIRE™.
Faster Treatment Time
High-Speed Integrated Vacuum Assisted Technology reduces treatment time by using a large 22x35mm spot size. Back or legs can be treated in 10 minutes or less. In addition, there is no prep time and no cooling or anesthetics required.
More Comfortable
High-Speed Integrated Vacuum Assisted Technology uses a unique vacuum mechanism that activates the skin's tactile and pressure receptors to inhibit the transmission of pain. ChillTip™ Technology cools the skin throughout the treatment.
Longer Lasting Results
The LightSheer technology by Lumenis has been validated in numerous clinical studies and peer reviewed articles. Our customers benefit from the LightSheer DESIRE features and enjoy high patient satisfaction.
We have promotions and discounts every month on our products and services. Please check the calendar on our specials page, or call the spa for more info.
Hair Reduction | Laser Treatment | Laser Hair Removal | Softer Skin