Sculptura Aesthetic
Not an overnight miracle. Long-lasting. Not a quick-fix. The first 
facial injectable
that gives you subtle results over time, thereby replacing lost collagen. Giving you a more 
natural-looking appearance
, without giving you away. A full 
treatment
 of Sculptra Aesthetic, is an average of three injection sessions over a few months, and can last more than two years.
*
 So you have more time to see how sensational subtle can be. Discover anti-age for the modern age. Sculptra Aesthetic is a new type of facial injectable made from poly-L-lactic acid, which helps to replace lost collagen. It helps correct shallow to deep facial wrinkles, and folds,
**
 that appear with aging by 
by replacing lost collagen.
 The main ingredient is a biocompatible, biodegradable synthetic material that has been used by physicians for decades.Learn how 
Sculptra Aesthetic is different in the way it works.
*
Individual results and treatment sessions may vary. Clinical trial ended at 25 months.
**
Safety and effectiveness of Sculptra Aesthetic have not been evaluated in areas other than nasolabial wrinkles and folds in clinical trials.
$799/syringe
INDICATION AND IMPORTANT SAFETY INFORMATION FOR SCULPTRA AESTHETIC
Sculptra® Aesthetic is intended for use in people with healthy immune systems as a one time treatment regimen of up to 4 injection sessions that are scheduled about 5 weeks apart for correction of shallow to deep nasolabial fold contour deficiencies and other facial wrinkles. It can be considered as liquid face lift.
You should not use Sculptra Aesthetic if you are allergic to any ingredient of the product or have a history of keloid formation or hypertrophic scarring. It should not be injected while you have an active skin infection or inflammation in the treatment area and should not be injected into the red area of the lip. Side effects may include injection site discomfort, redness, bruising, bleeding, itching and swelling. Other side effects may include small lumps under the skin that are sometimes noticeable when pressing on the treated area. Larger lumps, some with delayed onset with or without inflammation or skin discoloration, have also been reported.
Pre-Treatment: 
-Stop anti-inflammatory medication (i.e. ibuprofen) and alcohol for 48 hours
Post-Treatment: 
-Massage the area for 2 minutes, twice a day, for two weeks (222)
-Use 2 pillows, while sleeping, the first night if the face was treated.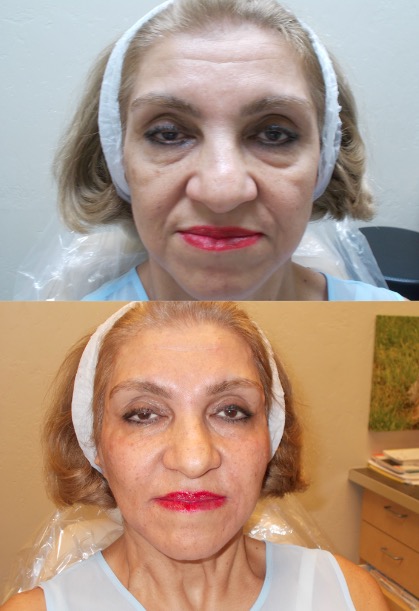 Before and After Sculptra